Chanterelle Bruschetta with crispy fried pancetta, walnut oil and parmesan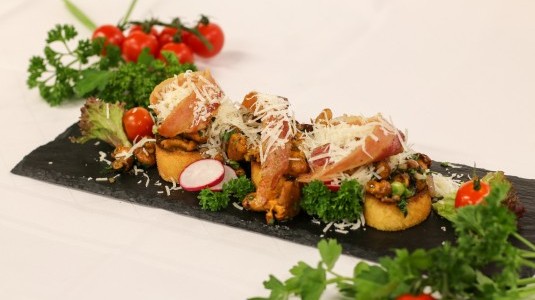 Ingredients for 4 people:
- 400 g chanterelles cleaned and washed
- ½ bunch of onion leeks
- 5 g coarsely chopped parsley
- ½ red onion finely diced
- 12 slices of white bread
- 12 thin slices of pancetta
- Salt, pepper and ground caraway seeds
- Freshly grated parmesan to taste
- A little olive oil
- Walnut oil

For garnish:
- 8 red cherry tomatoes
- 2-3 sliced radishes
- Lollo rosso
- Curly parsley

Preparation:
Fry the white bread with olive oil in a pan until golden brown on both sides. Meanwhile, in another pan, fry the pancetta slices until crispy and drain on kitchen paper. In the pan with the leaked pancetta fat, sauté the diced onions and then add the chanterelles and sauté vigorously. Season with salt, pepper and ground cumin. Now add the onion rings and chopped parsley. Season if necessary.
Serve:
Place three slices of toasted white stick bread on each plate. Spread the roasted chanterelles on the bread slices and drizzle with walnut oil. Sprinkle with freshly grated Parmesan to taste and place a crispy pancetta slice on each of the stick white bread. Garnish with lollo rosso, cherry tomatoes, curly parsley and radish slices.

We wish you a lot of fun while cooking and bon appétit!
back to the starters...